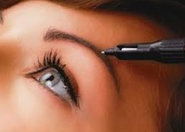 Permanent Makeup, also known as micropigmentation, is a revolutionary method of inserting small amounts of pigment into the dermal layer of the skin in order to enhance a woman's features.
---
Permanent makeup benefits those individuals who have.......
*Difficulty in makeup application
*Unsteady or arthritic hands
*Little or no brow hair
*An active lifestyle
*Hay fever or watery eyes
*Visual impairment
*Sparse or light lashes
*Allergies to conventional cosmetics
*A desire to always look their best!



Ready to schedule your consultation?