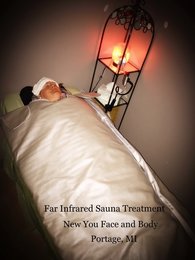 ​Individual Sauna Sessions
30 Minutes - $30
45 Minutes - $37
60 Minutes - $45

Sauna Package Options
5 - 30 Minute - $120
5 - 45 Minute - $150
5 - 60 Minute - $190
---

How the Far Infrared Ray (FIR) Blanket Works
Sauna blankets generate heat with far infrared ray therapy function. It is the same type of heat that the body produces naturally to warm itself. When the temperature reaches 70 degrees, the energy infiltrates into 4cm to 7cm of muscle tissue and skin and fully dissolve the surplus grease to achieve the purpose of keeping your body slim and at the same time beautify your skin. Far infrared therapy provides two factors that are essential for good health: cellular detoxification and good circulation. The health of the system depends on the movement of blood and energy throughout the body. Detoxification and good circulation results in adequate exchange of nutrients into cells, reduced inflammation, and loss of excess weight.
Far infrared ray energy, also known as radiant heat; is the natural part of the spectrum of sunlight, minus the skin damaging ultraviolet rays. Far-Infrared rays promote bioprocesses such as increased metabolism and blood circulation.
The Far Infrared Sauna not only purifies fat cells, but it burns calories (up to 500 in one full session). The utilization of Far Infrared Ray has been testified to be one of the most effective and scientific methods for weight-loss or body re-shaping. All the life-forms on earth naturally have activation of cells and flourishing metabolism with the radiation of FIR. FIR radiation penetrates under skin, muscles and bones which results blood circulation, cell activating and metabolizing of cells. When the activity frequency between molecules and atoms from cells becomes unanimous with FIR frequency, the energy will be rapidly absorbed by organism cells in which it resonates fiercer molecule oscillation. Thus, catabolism is enhanced and unwanted fat is decomposed accordingly. Far Infrared Ray even improves and clears cellulite. Cellulite is a gel-like substance made up of fat, water and wastes which are trapped in pockets below the skin. Profuse sweating, induced by the infrared sauna, can assist in eliminating this unwanted debris from the body. In Asia and Europe FIR has already revolutionized health and beauty products. Infrared energy is not only safe, but also highly beneficial for our bodies. European Beauty Specialists confirm that a sauna will greatly speed any anti-cellulite program.
Sauna Session Preparation
Remain hydrated. For best results, drink water prior, during and after your sauna session.
Do not apply excess body lotion to your skin prior to your session.
During your Sauna Treatment
You will be given water to remain hydrated.
Cooling cloths will be applied to your forehead for added comfort.
You are welcome to bring headphones to listen to your favorite music and/or watch your favorite Netflix series!
*Many people with heavy metals, chemical or pesticide toxicity levels may find it difficult to sweat initially; for some individuals it may require 5-10 sessions before measurable sweat volume is evident; but continuous water intake will enhance detoxification. Even without measurable sweat, the infrared sauna is helping to eliminate toxins through urine, bowels and hair.
Benefits of Using a Sauna Blanket
Provides
Pain Relief
with increased blood flow and tissue oxygenation
Fat-Burning and Weight Loss
- Sweating is an energy-intensive process. Extensive sweating can speed up the metabolism, resulting in dramatically increased caloric consumption. Simply put, sweating burns calories, often at very high rates. The metabolism can remain elevated for several hours after a session.
Detoxification
- As many fats and toxins are soluble at temps of just over 100 degrees, these fats and toxins, including cholesterol, heavy metals and acids, can be dissolved and excreted through our sweat and kidneys.
​
Other Benefits
Deep Relaxation
Hormone Balancing
Improve Memory, Sleep and Stress
Massage Benefits and Physical Therapy
Enhance Immune System
Enhance Nutrition Absorption and Healing
Helps with Insomnia
Precautions
Elderly Users should be closely monitored
Discontinue use if discomfort arises such as nausea, headaches, feeling faint, etc.
If you have any health issues and are pregnant; please consult with your physician before usage.