"The Academy" @ New You Face and Body offers a Semi-Permanent Microblading Course(30 Hours) in which you will receive a certificate of completion.
Classes are kept to a minimum of 4 to ensure 1 on 1 attention from the trainer(s).
Training offered at the Portage, MI location only.
__________________________________________________________________________________

CERTIFIED MICROBLADING SPECIALIST
Eyebrows - Semi Application
3 Day Course
30 Hours(24 Hours in Class, 6 Hours Pre-Study)
Monday-Wednesday - 8:30-5:30
Course Tuition - $2,550
Starter Kit(optional)- $275
---
​​Introduction to Microblading
The History of Semi-Permanent Makeup
Tools Utilized
State Regulations
Organizations
Insurance
Clinic/Procedure Prep
Treatment Area
Supplies, Instruments, Furniture
The Consultation
Patient Evaluation
Photography
Frequently asked Questions
Pre- and Post-Procedure Care
Health Requirements/Sanitation/Sterilization
American Red Cross and OSHA Standards
Sterilization
Device, Needle and Pigment Handling
Sanitation and Safety
Pre- and Post-Procedure
Disease and Infection Control
Client Prep and Artistic Techniques
Face Structure and Symmetry
Pre-Procedure Prep
Skin Marking
Topical Anesthetics
Brow Application

Color Theory
Pigment Selection
Preparation and Mixing
Color Correction
Client Paperwork
Client Consent
Hold Harmless Agreement
Photo Release
New Patient Forms
Pre- and Post-Care
Microblades
Microblade Selection and Technique
Disposal
Client Aftercare
Follow-Up Appointments
Expectations
Product Recommendations
Live Procedures
Brows
In Conclusion
Questions and Answers
Final Test and Review


​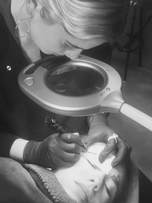 Please note...........
*6 Hours of in-home study are required prior to the first day of class. This will involve the use of a study manual. Your manual will be mailed upon registering for your class with detailed assignment instruction.

*A pre-test will be given on day one to assess your understanding of pre-class work.

*Students will have the opportunity to get Semi-Permanent Makeup at no charge when used as a model for a student. A charge of $150 will accrue if performed by a CPMP of New You Face and Body. It is important for you to have a true understanding of what one experiences/feels during the process.
---